Firefighting is among the most dangerous occupations for many reasons, but firefighters also can face increased long-term health risks due to exposure to a variety of hazardous substances on the job.
That's why a congressman from Indiana is proposing federal legislation to track incidences of cancer among firefighters. 
A 2010 study by the CDC of almost 30,000 career firefighters across the country discovered they had a 9 percent higher rate of cancer diagnoses and 14 percent higher rate of cancer-related deaths compared to the general population. Exposure to hazardous chemicals, radiation and substances including diesel engine exhaust, soot, benzene, chloroform and styrene is widely believed to contribute to the increased cancer risk.
Those findings helped spur the Firefighter Cancer Registry Act, a bill currently making its way through the U.S. House of Representatives. It would provide the U.S. Centers for Disease Control and Prevention with the funding and capability to collect and analyze data related to cancer incidents within the profession. It would create a national, voluntary registry for firefighters who have been diagnosed with cancer.
U.S. Rep. Trey Hollingsworth, R-Indiana, is one of the bill's co-sponsors. Back in his home state during the August congressional recess, he met Wednesday with fire service members in Jeffersonville to discuss the legislation.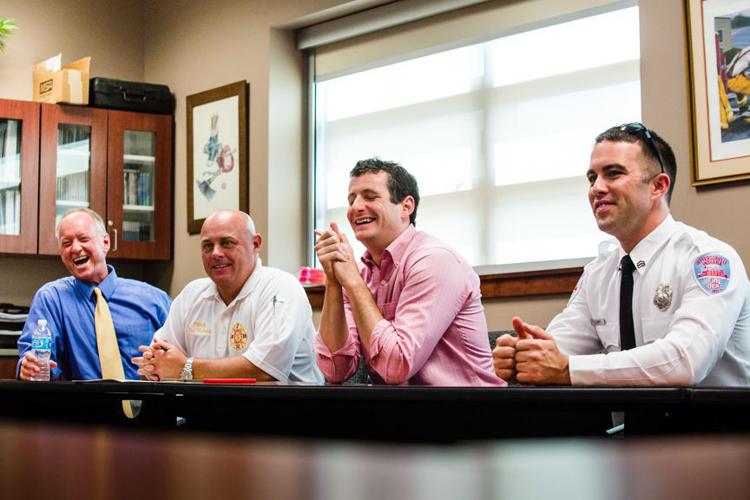 "We need to make sure that we do everything we can to support them, increase awareness about this and do research into what we can do to prevent a spike in cancer for those who are fighting fires," Hollingsworth said at Jeffersonville Fire Station No. 2.
The data on cancer rates didn't surprise any of the firefighters in attendance. For Thomas Hanify, president of the Professional Fire Fighters Union of Indiana, it's personal.
"I can tell you dozens of my coworkers that died early deaths right after retirement," Hanify said.
Twice as many firefighters in the study as the general population were diagnosed with malignant mesothelioma, a rare cancer caused by exposure to asbestos.
"We're not fighting fires in wood and paper any longer. It's all plastic ... as it burns, (it releases) carcinogens," said Joe Hurt, president of the Jeffersonville Firefighters' International Association of Fire Fighters Local 558. "Everything that comes off these fires is a carcinogen. It's getting in our skin, it's getting in our clothes, it's getting in our gear, coming back into our firehouses."
The bill, which recently passed out of the House Energy and Commerce Committee and now awaits approval from the full House of Representatives, is one example of legislation aimed at helping firefighters across the country. Other measures being considered at the state level include a measure in New York to provide additional health benefits to cover out-of-pocket costs associated with cancer treatments for volunteer firefighters. If it becomes law, the legislation would help defray those costs for an estimated 110,000 firefighters in the state.
Gov. Andrew Cuomo is expected to review the measure later this year. Meanwhile, volunteer firefighters are rallying support for it through a petition drive and postings on social media.
"We're working every day to try to encourage the governor to sign this cancer bill," said Kenneth Pienkowski, president of the Firemen's Association of the State of New York. He estimated more than 6,000 people have signed petitions either on paper or online so far.
The legislation would expand existing coverage for lung cancer to include a presumption that the following cancers contracted by volunteer firefighters are job-related: those of the digestive, hematological, lymphatic, urinary, prostate, neurological, breast and reproductive systems.
Brian McQueen, a member of the Firemen's Association of the State of New York who was diagnosed with B-cell non-Hodgkins lymphoma in 2013, said the cost to the jurisdictions that oversee the fire companies would run about $63 to $90 per firefighter annually.
"The more people that buy into it, the cheaper the price is going to be," he said.
Details for this story were reported by the Jeffersonville, Indiana News and Tribune and CNHI News New York Statehouse reporter Joe Mahoney.